Which internet circuit is right for your business? Are you familiar with these types of internet connections? We all rely on the internet in our daily life especially businesses. Perhaps you may be interested in a faster more reliable connection but are not sure which is best or if you can even get the connection or where to start. Below is detailed information about internet connection types that Connect Northwest provides.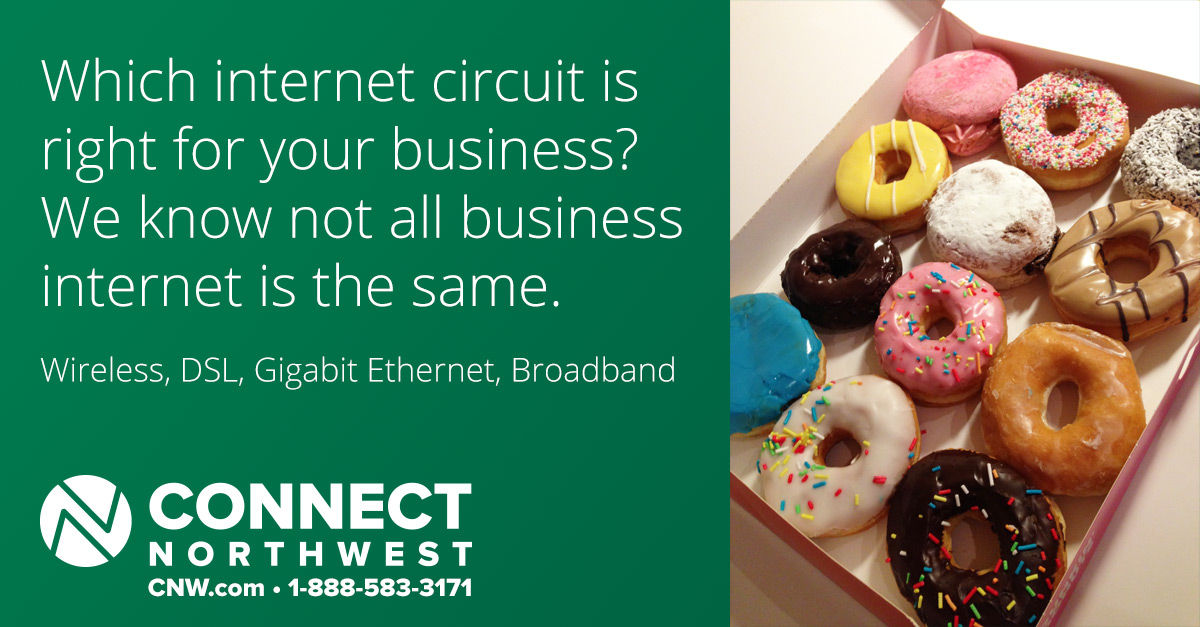 Business Broadband
DSL known as Digital Subscriber Line provides service over existing telephone lines. This is an economical option with reliable speeds for businesses that do not want to invest in dedicated service.
Fiber Optic
This is the latest in connectivity technology. This provides the fastest and highest connection speeds available today.
Gigabit Ethernet
Scalable bandwidth solution with fast speeds providing connectivity between two or more locations.
Dedicated Wireless
A wireless alternative solution to wired networks such as T1s, DS3, ADSL and cable modems. Dedicated wireless utilizes point-to-point connectivity with fast deployment, and giving you high speed internet.
Dedicated Corporate Circuits
Includes T1s, Bonded T1s, DS3 internet and above, Private Network Connections (PTP, T1 and greater), Metro Ethernet and more. Faster, more reliable and secure than cable and DSL connections our dedicated circuits carry 40 times more data per second than a traditional residential modem.
If you would like to learn more about faster, more reliable, secure internet for your business contact our sales team or call 1-888-583-3171, they are happy to help you determine which connection type is best.